SEO
Why You Should Be Adding Author Boxes On Your Blog
If you are thinking about adding author boxes to your website but don't know where to start, make sure to stick around as we are going to go over what an author box is. After that quick introduction, we are going to list a few benefits of adding an author box, and then we are going to introduce you to the best way of implementing an author box on your website.
First and foremost, what is an author box?
Without complicating things, an author box is a section of your website which contains information about the author of the text that your visitors are reading. The definition is pretty loose, and for a good reason, as an author box can be found in a myriad of locations on a web page and can contain a lot of additional information about the author other than the name and email. The main purpose of the author box is twofold. First and foremost, it gives credit to the author, and secondly, it can act as a gateway to other content hosted on your website. But it doesn't stop there, as a well-made author box can give you a few additional benefits that we are going to run through quickly.
Increases credibility
By attaching a face to your articles, you will be able to give off a more professional vibe. Your website will no longer come off as some amateur's passion project but rather as something professionally made. This will, in turn, lead to an increase in notoriety, giving you an opportunity to get in touch with potential investors, which will ask you to promote their product or other creators on the web. This segues us to our second point.
Allows you to collaborate
By giving credit where credit is due, you will attract authors that are interested in your website. They can range from young people trying to make a name for themselves to experts in the field that you are talking about. This will not only give you additional content to post but will also attract the following of the guest author.
Increases readability
Like we already mentioned, the author box will act as a gateway to the other content hosted on your website as it will let people see other articles written by this author. Another great thing that you can do is add tags into your author box, which will let visitors filter posts by tags, further increasing the amount of time that they spend on your website.
Improves the connection with readers and authors
If your authors have a strong social media presence, then adding author boxes will let you easily link to their social media. This will, in turn, increase connectivity and make your visitors feel like they are a part of a group, which will make them visit your website more frequently. Not to mention your authors will be happier as they will get to expand their social media presence.
Convenient
And last but certainly not least, by implementing a good author box on your website, you will be saving a lot of time. The amount of time that you can save heavily depends on the size of your website and the amount of information that you are forced to input, but in general, you can save around 10 minutes per post by implementing a good author box.
Good vs. Bad author boxes.
While the title of this paragraph is a bit clickbaity, there is still an argument to be made here. While having even the most basic author box is better than having none, I can without a doubt in my mind say that not all author boxes are created equal. Some author boxes are genuinely better than others, and in a sea of plugins and themes which let you add author boxes to your posts, it can be hard to find the best one. If you ask us, the best one out there is the Simple Author Box plugin, and we will elaborate further in a bit, but for all of you that are not so keen on using plugins, you should be happy to know that you can also manually create an author box if you know a bit of PHP. But before you go do that, we strongly recommend that you give the Simple Author Box plugin a try first, as it has everything you need.
Why is Simple Author Box so great?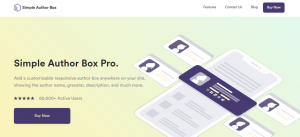 The short answer is that it's simple. Excuse the pun, but honestly, one of the main things that make Simple Author Box so great is its ease of use. Since this is a plugin, it can be downloaded from the WordPress plugins repository for free and can be installed just like any other plugin. This means that you can add an author box to your website in 5 minutes or less without having to touch a single line of code.
Now when it comes to features, Simple Author Box goes above and beyond, and that is most apparent when you look at what is offered in the premium version of this plugin. Unfortunately, Simple Author Box isn't completely free, but upgrading to the pro version is neither necessary nor expensive. If you are dead set on only using the free version, rejoice, as you will still be able to create profiles for your authors and automatically add an author box to the end of your page. In the free version, you will also have access to RTL and AMP support.
While this doesn't seem like a lot, it is more than enough for you to get the ball rolling. Now, if you decide to treat yourself and upgrade to premium, you will be able to manually change the position of where your author box appears and will have access to additional features which will let you customize the author box to your liking. Things like changing the color palette, the font and font sizes, icons effect, and borders will all become available. Other than that, the premium version gives you a bunch of other miscellaneous features like the ability to easily add guest authors and links or filtered searches.
How do you use Simple Author Box?
If you need a full breakdown of the plugin, I suggest you follow (https://wpauthorbox.com/documentation/), as it will give you all the necessary information on how to use this plugin. The only downside to the provided documentation is that it's quite long. But fear not, as I'm going to give you a quick TLDR that will let you create your first author box in minutes.
The first thing that you are going to need to do is, install the plugin. By going to (https://dashboard.wpauthorbox.com/) and providing the information that you got when you purchased Simple Author Box, you will be able to download the full version of the plugin.
Once you do that, simply go and install it and enter the activation key. Follow the instructions in the setup, and you will be done with the installation. Once that is done, we suggest customizing the author box so that it perfectly fits your website. You can do this by accessing Simple Author Box in the WP menu and clicking on the appearance tab.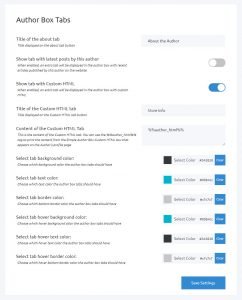 After you finish fiddling with the visuals, make sure that the author box has all of the information that you want to showcase. If it doesn't, simply add a new tab in the author box tab section. After you do all of that, you are pretty much done setting up and are ready to add beautiful author boxes to the end of your pages.
Once you master the basics, you can find additional information in the documentation. Guides on how to add guest authors and how to rebrand the dashboard of Simple Author Box can all be found there. Plus, I should also mention that Simple Author Box has great customer service, which will surely help you if you ever find yourself in a tricky situation.
In conclusion
Adding an author box to your website only brings about good things. Not only will you create a more professional website, but you will make yourself and your authors happier. And that is especially true if you decide to use Simple Author Box. There won't be a need to painstakingly link social media or write code, as the best author box plugin will have your back. If you don't trust us, go and look at the ratings on the official WordPress site. With over 50,000 active users and a five-star review, this plugin is the best of the best. So why not make your life just that bit easier, and go download Simple Author Box now. Since it's free, go download it and try it out, and if you like it, you can easily upgrade to premium. Now go out there and add that author box.